With thanks to the Daily Advertiser for the following article.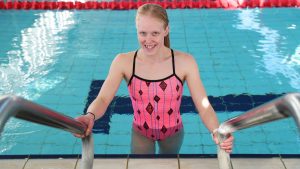 READY: Paralympics swimmer Ashley van Rijswijk.Article: Jon Tuxworth.  Picture: Emma Hillier!
Southern Sports Academy and Riverina swimmer Ashley van Rijswijk will spend an extended period in Queensland preparing for her first Paralympics campaign, with the 20-year-old to compete in two events at Tokyo.
The Wagga Swim Club member will compete at a grand prix meet in Brisbane midway through this month, before joining the rest of the Australian squad at a training camp on the Sunshine Coast.
Officials have deemed it too risky for swimmers to return from Queensland given the escalating COVID issue across the country.
Van Rijswijk, now based in Wagga after originally commuting from Tumut, will compete in her pet event the 100m breastroke, and the 200m individual medley.
 TOKYO BOUND: Wagga swimmer Ashley van Rijswijk will compete in two events at the upcoming Paralympics. Picture: Emma Hillier
"We decided the best solution isn't to come back (to NSW) because you don't know what can happen," van Rijswijk said.
"Before (Olympic) trials she had to quarantine after competing in America, but now we are looking for some good results.
"It's minimum making a final in the 100m breaststroke, that's what we're hoping for."
Van Rijswijk initially feared she had missed the cut after posting a time outside the qualifying time in the final at the trials, but past strong results allowed Swimming Australia to pick her in the squad.
"It was super exciting and the rush was big, once I got the team shirt on it started sinking in," van Rijswijk said.
"The 100 breast is my main event and it will be good to have a go at the 200 IM as well.
"It was very hard doing the quarantine (after America) and knowing you want to be in a pool training, doing dry land is a lot different to being in the water.
"It'll be very exciting to train up there with people who have made a number of Paralympics."
Van Rijswijk's 100m breaststroke personal best is 1:17.44, and she hopes to bring that down to 1:16 in Tokyo.
She said making the team was also reward for the hard work of the club and her parents.
"It's been amazing to get this far and I wouldn't have been able to do it without the dedication of my parents getting up a 3.30 in the morning (when living at Tumut) to get to training."