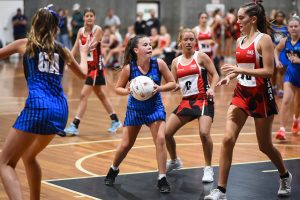 The Southern Sports Academy have today announced their new coaching team structure following an extensive program review and appointments process.
Working closely with program partner Netball NSW, the Academy are pleased to announce a new structure that will aim to provide the program with a more holistic approach to both on-court skill development, as well as athlete physical development support.
Carolyn Burgess will take on the role of Head Coach for 2021/22. Carolyn brings with her the experience of being part of both state and national programs during her athlete journey, as well as a wealth of knowledge coaching senior netball at Griffith and Junior representative level at Barellan.
Former Head Coach Rosemary Clarke will take on an exciting new role within the program as Head of Athletic performance. Clarke's focus will be working closely with the coaching staff, Programs Manager and academy support physiotherapist to design and implement training programs revolving around strength, conditioning, power and movement of SSA Netball athletes to maximize performance and minimize injury.
The program will also welcome the addition of Georgia Fuller as Assistant Coach. Georgia herself has a strong history of working with athletes at club and representative level who have made their way into the academy system, in part due to the quality environment that she has provided them on a local level.
To complete the new program structure, former SSA athlete Jemima Norbury will continue as Development Coach and renowned sports administrator Georgie Campbell remains as Team Manager.
Southern Sports Academy CEO Mark Calverley said that the announcements are an exciting time for the program and the academy as a whole.
"We're thrilled to be able to welcome both Carolyn and Georgia to the program, they both bring unique qualities to the program and with the revised structure to include Rosemary in a new role, they will definitely complement our current staffing group," Calverley said.
"We view this restructure as a potential model for other programs in future and we are excited to see the results blossom as our athletes prepare for our home Your Local Club Academy Games in April 2021".
Athlete nominations for the Southern Sports Academy 2021/22 RSL Club Netball Program remain open to 5th November via the academy website, with trials to take place on 13th November at the Wagga Multi-Purpose Stadium.
CONTACT:
Mark Calverley
0409 821 133
mcalverley@ssa-nsw.org.au