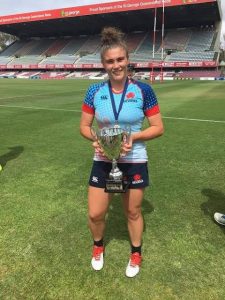 Australia's young female talent continued to shine at the weekend with the Australian Girls Schools sevens team winning the World School 7s tournament in New Zealand.
With Former SSA athlete Piper Duck displaying scintillating form the Aussie girls defeated Japan in the Cup final in Hamilton.
Keebra Park's Tiana Raftstrand-Smith and cross-code talent Jaime Chapman were also named in the team of the tournament after star efforts across the weekend.
The surge of talented teenage girls in Aussie sevens is immense, with rising stars Maddison Ashby, Sariah Paki, Georgia Hannaway, Jakiya Whitfeld and Hagiga Mosby already playing with the Australian team.
Former SSA athlete Duck also capped off a sparking week by being named in the Waratahs Super W squad for the 2020 for the upcoming season. New coach Campbell Aitken said he was excited by the prospect of seeing some of the team's additions grow.
"Players like Lilyann Mason-Spice and Piper Duck are really exciting prospects," added Aitken.
"To have them in a Super W environment and around experienced players week-in-week-out is only going to benefit their development as players."
The 2020 Super W draw is yet to be announced but the third year of the competition is expected to begin in February.