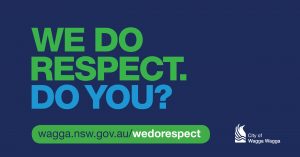 The Academy is proud to partner with the Wagga Wagga City Council in promoting the We Do Respect Campaign.
We do Respect is a campaign designed to empower individuals, to speak up when they see or hear disrespectful and inappropriate behaviour – in the workplace, at home and in social settings.
The campaign aims to increase bystander actions in our community, by providing a safe response for individuals when they hear disrespectful comments or statements. It's about challenging casual sexism, gender stereotypes and acts of disrespect – speak up and say "In this workplace, We do Respect".